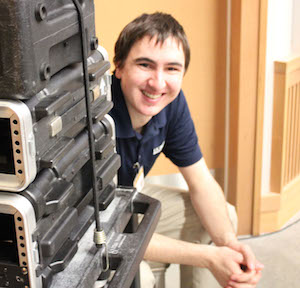 Tim Kerbavaz - AV Professional
Event Audio, Video, Presentations, and More
I do events, I tinker.
I put the "Tech" in Technoculture.
I've never met a microphone or a cable I didn't like.
I tinker with Arduino and Rapberry Pi.
I own Talon Entertainment, and I want to make your event great.

about
Tim's Story
Back Story
When I turned 10 years old, my Grandmother asked me what I wanted for my birthday. I thought about what I really wanted, and I told her "a microphone." Seems like an odd choice when most of my friends were getting Pokémon cards, but my 10 year old self was fascinated with event production. At public events, concerts, and street festivals, I would lean up against the sound riser, ogling at all the buttons and sliders, and hoping that someday I could stand at a console or call a show into a headset. At 10 years old, owning a microphone seemed like the the first step toward that dream, one that got me on the journey to becoming a sound engineer. I've always been passionate about live sound, and from my 10th birthday on, I've striven to learn as much as I can about professional audio. In addition to honing my skills at countless events, part of that self-education has been investigating the ways people interact with their technologies - Audio, Video, Electronic, and even analog tools mediate the way we relate to one another, I want to help people make the most of this technology.

I've worked in professional Event AV for 12 years. Here's a bit of that history:
Diving in Head First
As a college undergrad, I worked as a concert Production Manager, scheduling events, hiring technical providers, and providing a single point of contact for bands, managers, venue staff, and security for my events. I learned what it was like to be the client, to entrust the entire technical success of an event on one or two individual providers. It was extremely stressful.
Going into Business
Building on my experiences as a client, I founded Talon Entertainment to take some of the stress off of my friends in the event planning world. I knew what it was like to plan an event, and I wanted to be able to exercise my passion for technology in a way that I knew would benefit the people and relationships I care about. I've been privileged to have fulfilled more than one of my childhood dreams, and to take my UC Davis academic focus and build that into a successful business. At 10 years old, techies were my heroes. I know that not everyone is as interested in the technology as I am, as an adult, I strive to use my passions to take the technological pressure off you and your event.
resume
Education
March 2013
A.B. Technocultural Studies, Cum Laude
University of California, Davis
Exploring the intersections of Technology and Culture, Tim Kerbavaz studied everything from space-age habitations and war-inspired industrial design to music production, programming, and video. As the dictator of the Technocultural Studies Club, Tim led UC Davis students and community members in a quest to explore the furthest reaches of the technocultural glaxy. From installation art to guerrilla file sharing networks, Tim got the TCS club thinking outside the classrooms and into the real world.
Experience
May 2010 - Present
After years of doing sound, Tim decided it was time to break out on his own. Founded with friend and neighbor Aaron Cooper, Talon Entertainment took off as a well-respected provider of sound, video, presentation, and event production services in the Sacramento Area.
May 2010 - Present
Special Event Audio Technician
UC Davis/Academic Technology Services
Working closely wth clients and with other Academic Technology Services Staff, Tim plans, designs, and deploys event sound and video systems for a wide range of campus events - ranging from ~1000 attendee outdoor festivals to private press conferences to interviews with the chancellor to groundbreakings and alumni functions. In 2012, Tim researched, specified, and designed a portable presentation video flypack for live switching of presentation, playback, and live video sources at large conferences and events. Tim was awarded the UC Davis Student Employee of the Year award in Spring 2013, and started full time at UC Davis/ATS in July 2013. As the Special Event Support Technical Director, Tim produces a wide range of campus events for student groups, traveling conferences, and C-Level Executuves.
October 2011 - January 2012
Writer/Tech/Social Media Journalist
UC Davis/Aggie TV
As a jack-of-all-trades, Tim provided onsite and in-studio support to Aggie TV during the campus protests of 2011. Working with reporters, Tim wrote intro and voice over scripts for critical video news reports, edited daily footage for a morning release, and live tweeted protest and police activity to keep the student body informed. Tim also brokered licensing deals with national news outlets for Aggie TV's exclusive footage.
January 2011 - June 2011
Teaching Technology Support and Testing Technician
UC Davis/Academic Technology Services
As a support technician, Tim provided second-tier support for SmartSite, a UC Davis implementation of the Sakai Collaboration Learning Environment. He also performed non-code QA/Regression testing on SmartSite. Additionally, Tim helped faculty and teaching assistants use Personal Response System "clickers." After QA testing new software versions, Tim edited and revised documentation for both Smartsite and the PRS Clickers.
January 2009 - May 2010
Production Manager
UC Davis/Entertainment Council
As Productions Coordinator, Tim Kerbavaz worked in a group environment to schedule, book, and promote campus events. He assembled and maintained group's sound system system, and engineered sound for wide range of mid size events (100-400 attendance).

For large-venue shows (500-2000 attendance), Tim served as both pre-show and day-of event Production Manager, specifying and contracting sound and lighting systems and serving as the primary point of contact for artists, technical staff, and venue management leading up to and on day-of show.

Tim designed, specified and maintained an outdoor movie screening system with a 10K lumen projector and inflatable screen.

Additionally, Tim established and updated the Entertainment Council Facebook page and email listserv.

Working closely with ASUCD senators, KDVS (campus radio station), and Campus Unions staff, Tim acted as inter-departmental technical and productions liaison.
contact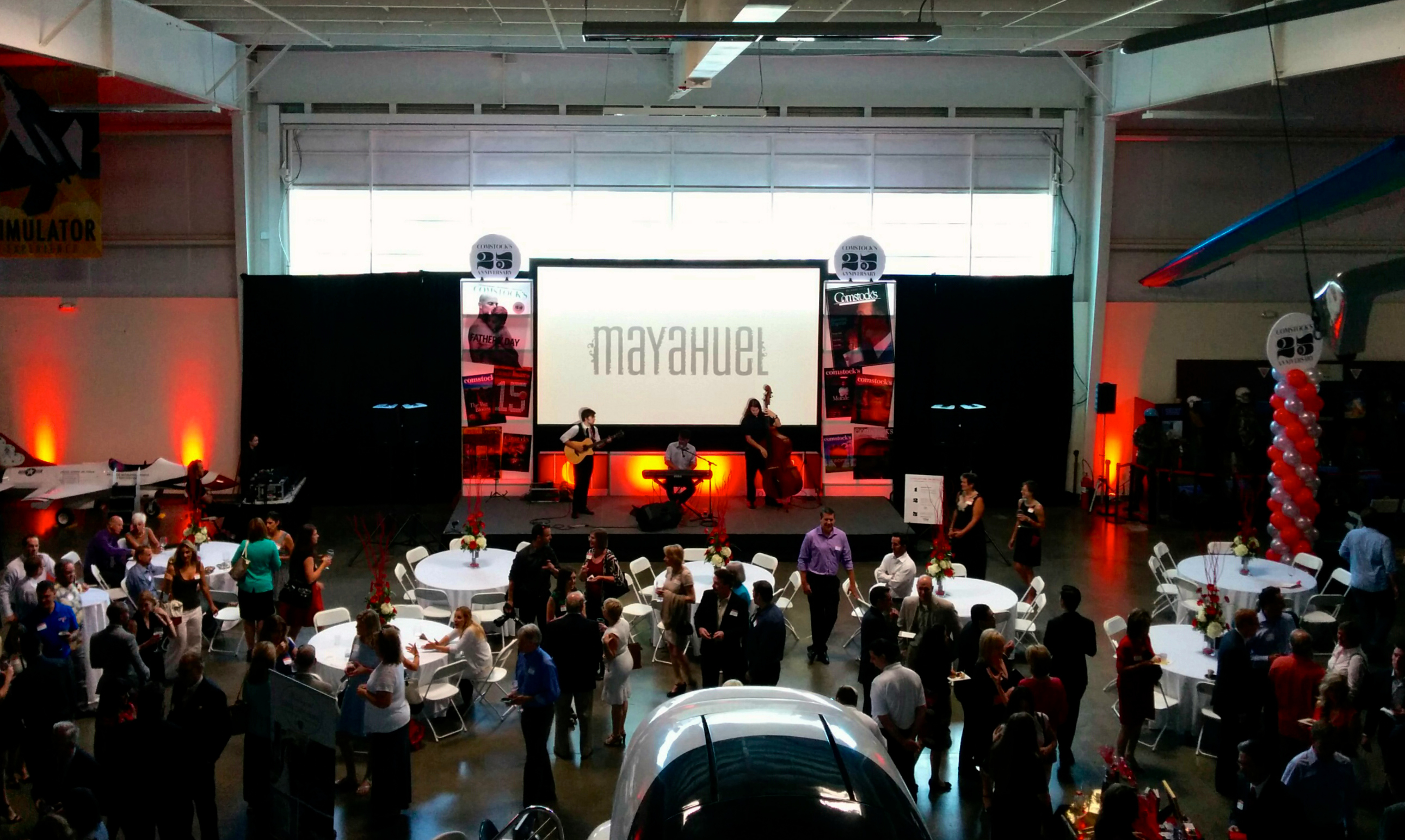 Contact Tim